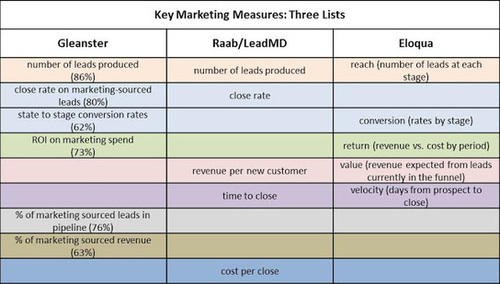 David Raab touches on three recent studies pertaining to marketing metrics,  offering three different perspectives on what marketing variables should be measured.  The metrics are clearly applicable to marketing automation.  He writes:
What accounts for the inconsistencies? I'd say mostly it's the nature of the lists. The Gleanster list is from a survey of what marketers actually do: it's no accident that nearly all items are quite easy to calculate. (Return on investment is a glaring exception, and I very much doubt that 73% of marketers actually calculate it today. So let's just assume that figure is aspirational.)
The other two lists are prescriptive: that is, they show what an expert feels should be done, not what marketers actually do. Look closely, and you'll see that the lists are quite similar.  Four of the five measures are shared.  Even the two non-matching items are related: my fifth item is cost and Eloqua's is return, which is a combination of cost and revenue.
iNeoMarketing's insight:
See the article at customerexperiencematrix.blogspot.com.
Receive a daily summary of The Marketing Automation Alert directly to your inbox. Subscribe here (your privacy is protected). If you like this scoop, please share by using the links below.
iNeoMarketing merges marketing automation with content marketing for a powerful lead management solution, configured and managed by our knowledgeable, experienced staff.  Contact us.