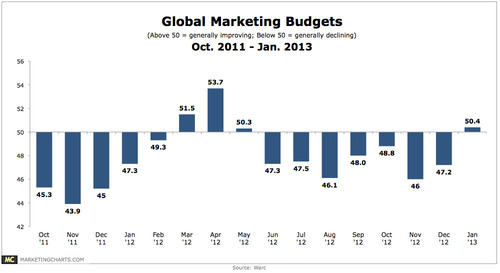 Overall, we're seeing a positive sentiment, from budgeting to results. B2B Marketers may very well be in the beginning of our Golden Years…
Marketers around the world report a positive outlook regarding their budgets this month, finds Warc in its latest Global Marketing Index (GMI). The budget component of the index improved to a reading of 50.4 this month, its highest level since April 2012 (53.7) and its first positive score since May (50.3). (A score above 50 indicates a generally improving environment, while a score below 50 indicates a generally declining environment.)
The overall budget reading was buoyed primarily by sentiment in the Americas, with a solid score of 53.9, up from 50.2 in December 2012. In the Asia-Pacific region, the budget score edged up slightly to 48.1, but remained in negative territory. And in Europe, the score remained firmly negative, at 46.2 (from 44.8).
iNeoMarketing's insight:
Receive a daily summary of The Marketing Automation Alert directly to your inbox. Subscribe here (your privacy is protected).
If you like this scoop, PLEASE share by using the links below.
iNeoMarketing merges marketing automation with content marketing for a powerful lead management solution, configured and managed by our knowledgeable, experienced staff. Contact us
See on www.marketingcharts.com