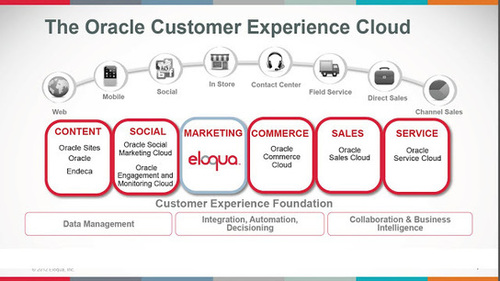 David Raab weighs in…and let me focus on what he says about SFDC…and Marketo…
More significantly, the Eloqua purchase poses an awkward dilemma for Salesforce, which wouldn't let Market2Lead continue to integrate with Salesforce after Oracle bought it. Taking the same line with an Oracle-owned Elqoua isn't quite as easy, and in fact is probably impossible. So now Salesforce finds itself forced to give Oracle access to prime customers, which cannot be a pleasant prospect. We'll see how they handle it.
There are plenty of alternative partners to provide Salesforce clients with similar capabilities, which has been the case with marketing automation. The calculus changes when a few large vendors start to dominate the marketing automation space – especially among enterprise clients, who have special needs that only a few vendors can meet. More concretely, Salesforce now has to think long and hard about Marketo's future. The expectation has always been that Marketo would remain independent, eventually as a public company. But what if they get bought by potentially serious competitor like SAP or IBM, either before or after a public offering? Salesforce might well decide to buy them itself just as a defensive measure.
See on customerexperiencematrix.blogspot.com