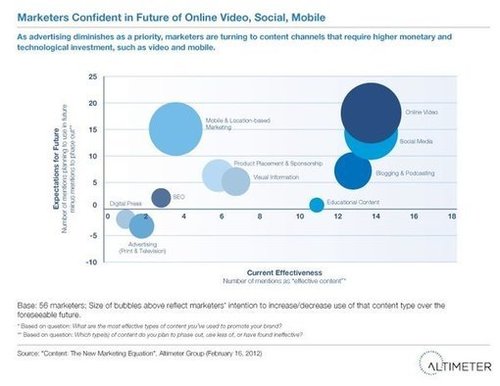 Here are five fresh thoughts on what to look for in the world of content, in 2013…
1. Creators and Publishers: Charting the Visual Front
Smart writers who want to be really successful in content marketing will take the time to expand their skill sets and technology prowess into more visual channels, or at least enhance their writing with a sharper visual sensibility.
2. Creators: Making Better Video in 2013
If multimedia is the future of content as we know it, then with it had better come a better format for the viewer.
3. Publishers: Doubling Down on Copyright
Although navigating copyright is a mystery to many marketers, the proliferation of content marketing means that they need to get smart quickly. This is the year to become copyright experts in the content-marketing field. 
4. Publishers: Scaling Up on Budget
The coming year, for content publishers in particular, should be about taking a fresh look at the financial reality of making great material available to their readers.
5. Creators: 2013 Means More Work, Better Work
The good news is also this, for the folks creating content for marketers and publishers: if publishers are going to need more sophisticated — and more proprietary — material in 2013, then hardworking and adaptable writers, videographers, and info-graphic designers should be able to continue making a decent living at this work in the near future.
iNeoMarketing's insight:
See the article at contently.com.
Receive a daily summary of The Marketing Automation Alert directly to your inbox. Subscribe here (your privacy is protected). If you like this scoop, please share by using the links below.
iNeoMarketing merges marketing automation with content marketing for a powerful lead management solution, configured and managed by our knowledgeable, experienced staff.  Contact us.
See on contently.com