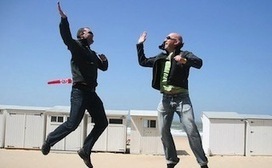 We've summarized this as best as possible so as to ensure that all the key points are covered:
Unlike PPC landing pages where the lone objective is to convert, SEO landing pages must serve two masters:
Persuade users to take a desired action (i.e., convert).
Rank well and drive organic traffic.
Given the need to perform well in competitive organic SERPs (and to rank for a basket of keywords and keyword variations), SEO landing pages are typically structured much differently than a paid search landing page, with particular emphasis on longer-form content – a theme/debate cropping up more and more in SEO circles, especially since Google unleashed Panda.
Solutions Pages as SEO Landing Pages
Solutions landing pages are sort of a hybrid page type. They help bridge the gap between useful, informational content you might publish on your blog, and a transactional landing page that would live in a product or services section on your site. The solutions page, on the other hand, would likely live in a dedicated "Solutions" section on your site. And for SEO purposes, that section would fall either in the main navigation or in a sub-navigation, so it's no more than one or two clicks from the home page since you want as much internal link equity and authority flowing to those solutions pages for SERP performance purposes.
Typical characterisits of solutions-oriented landing pages include being:
Topically-driven by keyword demand and relevancy.
Optimized for organic search.
Written in long-form, since longer content ranks and converts better than shorter content.
Written to connect with your target audience.
Focused on solving a problem or pain point.
Clear and relevant, with an offer mapped to user intent (typically your main product or service).
How to Structure Solutions-Oriented SEO Landing Pages
Let's look at a blueprint for how you can structure a solutions-oriented SEO landing page. This blueprint includes five distinct components:
Headline: This is where you make a compelling promise to your audience so they continue reading. You can include a subhead as well to help expand on the initial promise in your headline.
The set up: The introductory paragraph of your solutions page is where you want to "set the table" and engage your audience. The approach here is not to try and "close the deal" by pimping your product right out of the gate, since it can feel like a cheap pick-up line. Instead, you want to build trust and deliver relevance (for both users and engines). Define your topic and potentially explain the benefits for the intended audience. Bullet point formatting is a good idea here because people tend to scan more than read every word.
The problem: Address the user's problem, pain point, or question. Search is invariably about asking a question. This section gets to the very reason they came to your site, so you're reinforcing their decision to land on your page. Another recommendation is to use subheads for each of these sections since it helps break up your copy, makes it easier to scan and keeps readers on track.
The solution: Now it's time to offer a solution to the user's problem or question, which will be your product or service. Talk about your offer, your unique value proposition, and what distinguishes you from other sites with a similar product or service.
Call to action: Your CTA is arguably the most important segment of the page, and can be the tipping point between bounce and conversion. Here you want to prompt the reader to take a desired action, using clear specific directions.
iNeoMarketing's insight:
See the article at searchenginewatch.com.
Receive a daily summary of The Marketing Automation Alert directly to your inbox. Subscribe here (your privacy is protected). If you like this scoop, please share by using the links below.
iNeoMarketing merges marketing automation with content marketing for a powerful lead management solution, configured and managed by our knowledgeable, experienced staff.  Contact us.
See on searchenginewatch.com