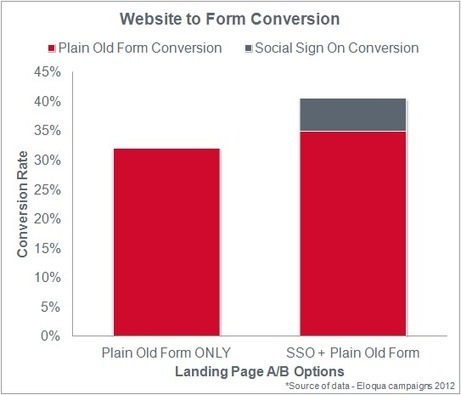 Thank you Eloqua! This is straight from the "No Brainer" file.  We had to get this to you, as it is found money from your marketing automation forms: add Social Sign in to your forms NOW!…
Social Sign-On is the ubiquitous "Sign In with LinkedIn" or "Register with Facebook" buttons. Eloqua enables social sign on to be implemented with a few clicks. Generally, these buttons do several things for marketers. They increase data quality, by pushing a standard set of data (such as standard "Industries" from LinkedIn). They link social profiles to contacts, allowing marketers to understand the buyers social persona. AND, they decrease friction, making it easier for prospects to submit forms.
We wanted to test the increase in conversion that social sign on creates. To do that, we looked at a series of campaigns that had either just a regular old form, and compared those against similar campaigns that had both a regular old form AND a Social Sign-On option (in these tests, it was LinkedIn). Click here to see samples of the landing pages.
When both were present, 86% of submissions occurred through the regular old form, and 14% occurred through the social option. The Social Sign-On is cannibalizing the regular form submissions to some extent (people switching from the regular old form to the social). Where it gets interesting is when you compare the overall conversion rates to the standard form only. A form with both options converts 8.5% MORE website visitors to form submitters!
iNeoMarketing's insight:
See the article at blog.eloqua.com.
Receive a daily summary of The Marketing Automation Alert directly to your inbox. Subscribe here (your privacy is protected). If you like this scoop, please share by using the links below.
iNeoMarketing merges marketing automation with content marketing for a powerful lead management solution, configured and managed by our knowledgeable, experienced staff.  Contact us.
See on blog.eloqua.com