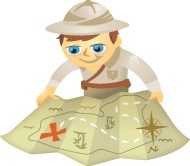 We STINK at really using LinkedIn to drive more business, so we've been gathering as much insight as possible to improve our utilization of this great B2B lead gen tool. Here's another synopsis:
#1: LinkedIn Becomes More Image-Centric
Because of the focus on images, it's now very important that you create a Company page and add your own photo and your logo. This will also enhance your branding and visibility. LinkedIn also added the new Rich Media tool that allows you to easily add video, presentations, your blog and other media to your Summary, Experience and Education sections.
#2: Cool, Clean New Look
So how does having a clean look get you more business? LinkedIn's new look gives you a fast snapshot of the member you are looking at (and who is looking at you). You can quickly decide if this is someone you want to do business with, saving you time and effort as you prospect potential clients, employees, partners, vendors, etc.
If the profile you are looking at is a first-level connection, you can easily add notes to the profile that show up front and center (and are therefore much easier to see and remember). This can help spark engagement with a member and prospect whom you have lost touch with.
#3: Get Introduced and Get More Business
LinkedIn has always had the Get Introduced feature, but now you can search your connections' connections by keyword. Why is this so important? You can choose people you know, like and trust and then search their networks for people they know, like and trust. This allows you to be extremely strategic in your engagement.
Before putting the Get Introduced link into play, ask your connection if the person you found in their network is the type you're looking for. Then use the Introduction tool to strategically and proactively reach out to your prospect. Now you can easily ask your connection if he or she is willing to introduce you, so the person will be expecting the introduction request and will be more likely to pass it on through. Or tell you no. In either case, you won't waste an introduction.
#4: Whom Do You Know?
Now LinkedIn will show you whom you have in common. You actually see your introducer's face and name. By scrolling over their picture, you can even see a snapshot of their profile (just in case you weren't sure which Mari Smith to choose). Then it's simply a matter of clicking on Send a Message to send a quick request asking if they would be willing to introduce you to the prospect.
#5: Get Active and Get Business
Personally I am a big fan of LinkedIn's Sharing Bookmarklet, which allows you to easily share web content with your network as an update, tweet, group discussion or even as a message to a connection. Get active to stay top of mind and position yourself as a helpful and trusted connection in order to attract more business.
#6: Common Interests for Engagement
Do you hate cold-calling complete strangers? Me too! This is why I love LinkedIn's new "Common Interests" feature that shows you what skills, causes and groups you have in common with a member.
So make sure you add your causes, skills and interests to your LinkedIn profile. Fortunately, the new profile makes this easy to do. Join groups that are in your area of expertise, as well as your niche markets. Create as much common ground as you can with your target or niche markets and prospects.
How does this work? If I wanted to connect with a prospect, I simply click on their profile and see what I have in common with them.
iNeoMarketing's insight:
See the article at www.socialmediaexaminer.com.
Receive a daily summary of The Marketing Automation Alert directly to your inbox. Subscribe here (your privacy is protected). If you like this scoop, please share by using the links below.
iNeoMarketing merges marketing automation with content marketing for a powerful lead management solution, configured and managed by our knowledgeable, experienced staff. Contact us.
See on www.socialmediaexaminer.com