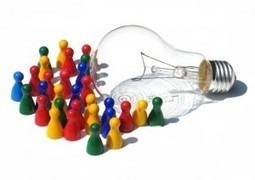 It's always a challenge to secure content on a regular basis for the thought leaders in your organization. Here's a patch to secure and then how to distribute the thought-leading content…
Establish Content Marketing Strategies for Your Industry Principles and Thought Leaders
You want your thought leaders to have five key strategies goals when using social media for thought leadership to support your business goals:
Establish their personal social brand. Each key contributor to your organization's content marketing strategy needs to be easily found on Google and other search engines. Once found, it is critical for their social brand to position them as experts!
Create "findable" industry-, solution or line-of-business specific content. You want your content leaders to put out issue- based content that informs and educates around the issues that your product or service addresses. Thought leaders should focus on creating blog posts and curating relevant content to establish their social brand and let the social media marketers and channel managers do the rest!
Provide You The Buzz. Keep an open and strong line of communication open with this leader group and use it to connect the big issues with your marketing mission.
Make it easy for your thought leaders to be found and make sure their social brand truly positions them as a thought leader!
Build Small C Community . Build community, and that is with a small 'c', with relevant content. Your industry principles' main social business goal should be to focus on what they do well … providing insight and thought leadership to help your customers become aware of your brand and providing and easier buying decision process.
5 Key Social Media Content Distribution Considerations For Thought Leaders
Once your thought leaders are identified and you have secured a stream of content, you need to define the blueprint for successful distribution on your current social channels and the leaders' channels.
Enterprise Social Media Channels. Leverage your existing organization's channels to promote the thought leadership (e.g., a collection of well-orchestrated tweets with a link to their blog, etc.)
The Social Business Approach To Distribution. Inform all related coworkers of the thought leadership content to leverage their personals channels (i.e., their Twitter handles, own blogs, etc.).
Guest Blogging and Syndication. Ensure your social media marketing team works to distribute this interesting thought leadership on guest blog sites.
Influencer Outreach. Thought leaders love to spread the "thought leader-love" with each other! Part of your social media marketers's responsibility should be a rigorous influencer identification and engagement plan.
Thought Leader Activation. With a professional and engaging social brand in hand, along with some great content, thought leaders need to be activating their own distribution on their own social channels. This posting is in addition to using your current enterprise channels.
iNeoMarketing's insight:
See the article at www.business2community.com.
Receive a daily summary of The Marketing Automation Alert directly to your inbox. Subscribe here (your privacy is protected). If you like this scoop, please share by using the links below.
iNeoMarketing merges marketing automation with content marketing for a powerful lead management solution, configured and managed by our knowledgeable, experienced staff. Contact us.
See on www.business2community.com