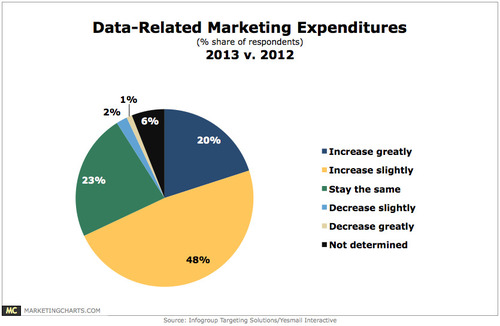 We believe that B2B marketers are on the cusp of taking data and utilizing it to create and market personalized, customized offerings. We see increased spending in data analysis and output. We're not surprised to see this pie chart…
68% of marketers play to greatly (20%) or slightly (48%) increase their data-related marketing expenditures this year, according to results from a survey conducted by Infogroup Targeting Solutions and Yesmail Interactive at the DMA2012 Annual Conference and Forrester Research's e-Business Forum. With an additional 23% of respondents planning to maintain their data-related spending this year and 6% unsure, just 3% will make some cuts in this area.
Survey respondents at the Forrester conference indicated a variety of areas in which they plan to improve their data methods. Data analysis emerges as their top priority for improvement, followed by data cleaning, data collection, and data application. This aligns with results from a Neolane and Direct Marketing Association survey,in which marketers cited big data's primary challenge to be its analysis, rather than its application to marketing.
iNeoMarketing's insight:
See the article at www.marketingcharts.com.
Receive a daily summary of The Marketing Automation Alert directly to your inbox. Subscribe here (your privacy is protected). If you like this scoop, please share by using the links below.
iNeoMarketing merges marketing automation with content marketing for a powerful lead management solution, configured and managed by our knowledgeable, experienced staff. Contact us.
See on www.marketingcharts.com