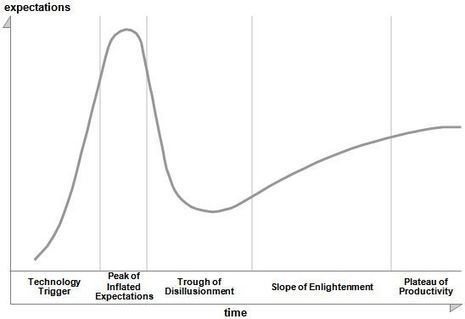 Well, that was fast. Didn't take long to fall into the Gartner Hype Cycle trough. We suspect we'll see more negativity before we see articles about the successes gained from Big Data…
Back to the trough of disillusionment. Or, rather, forward to the trough. To minimize the depth of the fall, companies must be at a high enough (satisficing) level of analytical and enterprise information management maturity combined with organizational support of innovation. Oops, I promised myself to be a reporter, not an analyst in my blogs.
And plateau of productivity will be reached when tools and product suites saturate the market. Meanwhile, according to the Gartner Hype Cycle, the next stop for big data is negative press.
iNeoMarketing's insight:
Receive a daily summary of The Marketing Automation Alert directly to your inbox. Subscribe here (your privacy is protected).
If you like this scoop, PLEASE share by using the links below.
iNeoMarketing merges marketing automation with content marketing for a powerful lead management solution, configured and managed by our knowledgeable, experienced staff. Contact us
See on blogs.gartner.com