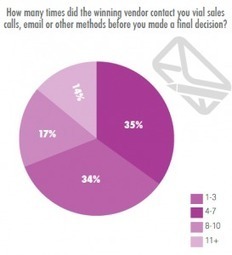 This article talks to that which marketing automation users already know: timing and type of follow-up plays a critical role in the sales process. Here's a quick summary:
When it comes to following up with a B2B buyer, your sales and marketing teams need to make sure they are responding to leads quickly. 57% of the respondents from the DemanGen report ranked the timeliness of a vendor's response to their question/inquiries as very important and InsideSales found that responding to a completed form within 5 minutes versus 10 minutes led to a 900% increase in contact rate. When conducting research, buyers want the information they're after without a wait. So, if a prospect has taken the steps to fill out a form, reach out quickly with your initial follow-up call.
Follow up with leads within 5 minutes or you could miss out on making contact. Send out a quick email and hop on the phone.
Do some quick research on the lead's business and position. Be ready to provide relevant information for the buyer, no matter who they are or where they are in the buying cycle.
One phone call or an email isn't enough. Marketers need to be prepared to send out multiple emails and your sales team needs to be prepared to make more than a couple of phone calls. 35% of respondents reported at least four contacts (via sales calls, emails or other methods) with the winning vendor and 31% said they had eight or more contacts (DemandGen).
iNeoMarketing's insight:
Receive a daily summary of The Marketing Automation Alert directly to your inbox. Subscribe here (your privacy is protected).
If you like this scoop, PLEASE share by using the links below.
iNeoMarketing merges marketing automation with content marketing for a powerful lead management solution, configured and managed by our knowledgeable, experienced staff. Contact us
See on www.business.com