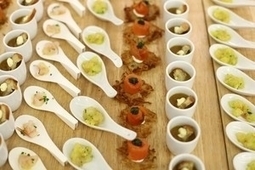 Interesting take on content marketing. Not the "marketing meal" metaphor, but the recommended social media points of distribution based on where the visitor's sales funnel location. A synopsis…
1. Binge Content
Content binging happens when a person quickly consumes snippets of massive amounts of content. With this audience in mind, make sure you're serving a binge content course in your content marketing meal plan, so people can quickly consume snippets of your content at any moment in time.
2. Taste-Test Content
Using tools like Facebook, LinkedIn, and YouTube, you can create and share samples with your target audience for them to try anytime they want. Never underestimate the power of content samples and taste-testing.
3. Consumptive Content
The main course of your content marketing meal plan is consumptive content. You need to make an effort to create high quality content on your blog, in ebooks, in online presentations, in podcasts, and so on.
4. Preferred Content
Once your target audience has consumed your content main course, you need to continue to deliver high quality content that meets their expectations for your brand. The goal is to ensure your content becomes the audience's preferred content.
5. Required Content
Loyal content consumers are likely to talk about your content, share it with their own audiences, and even buy from you. This leads to the fifth course of the content marketing meal where your content is not just preferred by your target audience but it's required. In other words, they won't accept anything else, and they advocate your content (and your brand) to anyone who will listen.
iNeoMarketing's insight:
Receive a daily summary of The Marketing Automation Alert directly to your inbox. Subscribe here (your privacy is protected).
If you like this scoop, PLEASE share by using the links below.
iNeoMarketing merges marketing automation with content marketing for a powerful lead management solution, configured and managed by our knowledgeable, experienced staff. Contact us
See on www.forbes.com