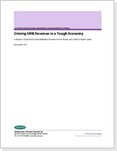 "This report from Forrester Consulting looks at how small and medium-sized businesses are adapting their marketing methods in the wake of the recent recession and current economic uncertainty. The difference between the methods of Top Performers – those who drive revenue and exceed expectations – and Bottom Performers is clear and instructive."
iNeoMarketing's insight:
You'll want to review the stats associated with marketing automation adoption by SMBs. Regardless, a good benchmark for our SMB readers, and anything from Forrester that is free is a good thing.
See the article at www.act-on.com
Receive a daily summary of The Marketing Automation Alert directly to your inbox. Subscribe here (your privacy is protected).
If you like this scoop, PLEASE share by using the links below.
iNeoMarketing merges marketing automation with content marketing for a powerful lead management solution, configured and managed by our knowledgeable, experienced staff. Contact us
See on www.act-on.com