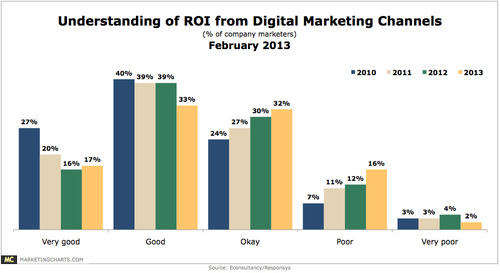 Digital marketing channels have been viewed as better than traditional media for their measurability, but new research from Econsultancy and Responsys suggests that marketers are having a harder time measuring their ROI from digital channels. Among company marketers surveyed – primarily from the UK (46%) and other European countries (19%) – just 50% rated their understanding of ROI from digital marketing channels as "good" (33%) or "very good" (17%), down from 55% last year. By contrast, the proportion rating their understanding as "okay" or "poor" rose from 42% to 48%. The remaining 2% this year rated their understanding as "very poor."
iNeoMarketing's insight:
Honestly, how is it that so many companies are having issues measuring the ROI from digital channels? The essence of digital is measurability. Our guess is that it has everything to do with marketing attribution. If you're thinking about marketing automation, don't forget: tag 'n track!
See the article at www.marketingcharts.com
Receive a daily summary of The Marketing Automation Alert directly to your inbox. Subscribe here (your privacy is protected).
If you like this scoop, PLEASE share by using the links below.
iNeoMarketing merges marketing automation with content marketing for a powerful lead management solution, configured and managed by our knowledgeable, experienced staff. Contact us
See on www.marketingcharts.com