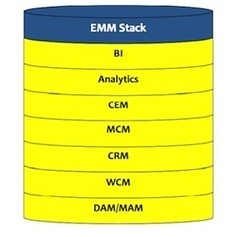 The Jordan Edmiston Group, Inc. (JEGI), a leading investment bank in the marketing and media space, recently released a new report on the enterprise marketing management (EMM) stack.
Key paragraph…
It's clear that agencies and IT/consulting services will be duking it out over the CMO's increasingly technology-driven budget and attention. What's interesting is that this strategic battle seems to be converging around the different layers of the EMM stack, as illustrated by JEGI's graphic at the top of this post.
iNeoMarketing's insight:
Clearly enterprise marketing management oriented, and oh by the way, probably points to the reason why MA has a relatively low penetration rate: it may be that the nature of MA is geared towards the non-Fortune 1000 whereas the Fortune 1000 needs to operate/manage the full stack.
See the article at chiefmartec.com
Receive a daily summary of The Marketing Automation Alert directly to your inbox. Subscribe here (your privacy is protected).
If you like this scoop, PLEASE share by using the links below.
iNeoMarketing merges marketing automation with content marketing for a powerful lead management solution, configured and managed by our knowledgeable, experienced staff. Contact us
See on chiefmartec.com