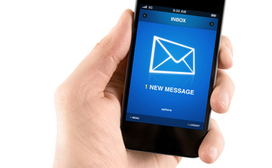 Taking time and making efforts now to think about the mobile email experience and get your mobile optimization strategy in place will help you continue to grow your digital marketing program.
Summary…
If you haven't yet reviewed every aspect of your email marketing program on a small screen, you're falling back in the competition pack. Here are two reasons why optimizing for mobile should be your top priority this year:
Mobile traffic worldwide grew 70 percent in 2012, nearly doubling from 2011, according to the Cisco Visual Networking Index Global Mobile Data Traffic Forecast for 2012 to 2017. It's now 12 times what the global Internet was in 2000.
By the end of 2013, mobile devices will outnumber the human population, Cisco predicts. Also, worldwide mobile data traffic will increase 13-fold over the next four years. Smartphones, laptops, and tablets will drive 93 percent of global mobile data traffic by 2017.
Takeaways…
Adopting responsive email design is the first step in ensuring that your email program is effective in 2013. It makes mobile-viewed email easy to engage with and effective at driving conversion.
Consider an App as the new landing page (!!!)
Push notifications are leading the next wave of mobile marketing. These messages are delivered to subscribers who have given permission to receive them when they downloaded your app.
iNeoMarketing's insight:
We think the notion of an App as the new landing page for mobile email marketing is brilliant. The article notes the use of custom URL schemes to track/collect data. Smart.
See the article at www.clickz.com
Receive a daily summary of The Marketing Automation Alert directly to your inbox. Subscribe here (your privacy is protected).
If you like this scoop, PLEASE share by using the links below.
iNeoMarketing merges marketing automation with content marketing for a powerful lead management solution, configured and managed by our knowledgeable, experienced staff. Contact us
See on www.clickz.com