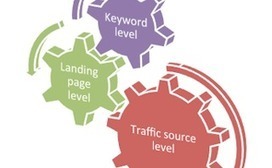 Since search quality indicators have become an increasingly important factor for search engines, evaluating SEO content performance in search engines using Google Analytics is becoming more important.
Quick overview…
This article is for individuals who are starting content analysis using Google Analytics. It describes a simple top down method for content insights.
Levels of analysis reviewed…
Traffic Source Level
Site Section Level
Keyword Level
iNeoMarketing's insight:
Excellent primer on using Google Analytics for SEO Content Analysis. You'll want to click-through for the details.
See the article at searchenginewatch.com
Receive a daily summary of The Marketing Automation Alert directly to your inbox. Subscribe here (your privacy is protected).
If you like this scoop, PLEASE share by using the links below.
iNeoMarketing merges marketing automation with content marketing for a powerful lead management solution, configured and managed by our knowledgeable, experienced staff. Contact us
See on searchenginewatch.com