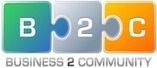 What is Bounce Rate?
Bounce rate is the percentage of visitors who view one page on your website and leave without any interaction. For most basic websites, this just means they viewed one page and left. If you have event tracking (hovers, video views, button clicks), if users interact with one of them before leaving, it doesn't count as a bounce.
iNeoMarketing's insight:
Excellent overview of the Bounce Rate from Google Analytics, and goes into a bit of details that is easily consumable, e.g., bounce rate by traffic source; and why you really shouldn't be overly concerned with high bounce rates.
See the article at www.business2community.com
Receive a daily summary of The Marketing Automation Alert directly to your inbox. Subscribe here (your privacy is protected).
If you like this scoop, PLEASE share by using the links below.
iNeoMarketing merges marketing automation with content marketing for a powerful lead management solution, configured and managed by our knowledgeable, experienced staff. Contact us
See on www.business2community.com