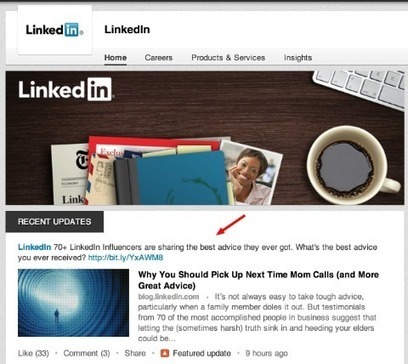 LinkedIn Company Pages: Here's how a number of larger brands are creatively using their LinkedIn company pages, and some of them are doing cool things.
Excerpted…
1) Here's how to develop a campaign on your LinkedIn company page.
Create a campaign that poses an interesting question to a group of influential bloggers in your industry who can respond via their own blog post. Not only can you highlight each of these contributors on your own company blog, you can also create a series of shareable and engaging status updates for your page!
2) Here's how to create leads with your LinkedIn company page.
Regardless of what products and services your company sells, create marketing offers such as free demos, a free consultation or free ebooks or special reports, and share information on these to generate leads from your LinkedIn company page.
3) Here's how to cross-promote your other social channels on your LinkedIn company page.
You are allowed to have up to 3 rotating banner images under the Products/Services tab. Within each banner, you can embed a link so the viewer can click through to an outside web page or to another social media profile. Develop banner images and embed links for your company page's Products/Services tab to cross-promote your other social media communities.
4) How to engage your audience on your LinkedIn company page.
Make sure to create a banner image to insert at the top of your LinkedIn company page to make it more visually appealing. Next, consider creating a series of contests or sweepstakes promotions that are relevant to your company and can be shared as status updates. This is a great way to generate buzz and build followers for your page.
iNeoMarketing's insight:
This is an excellent post that you need to click through to fully understand and deploy. What a great way to exploit your LinkedIn company page!
See the article at www.socialmediaexaminer.com
Receive a daily summary of The Marketing Automation Alert directly to your inbox. Subscribe here (your privacy is protected).
If you like this scoop, PLEASE share by using the links below.
iNeoMarketing merges marketing automation with content marketing for a powerful lead management solution, configured and managed by our knowledgeable, experienced staff. Contact us.
See on www.socialmediaexaminer.com