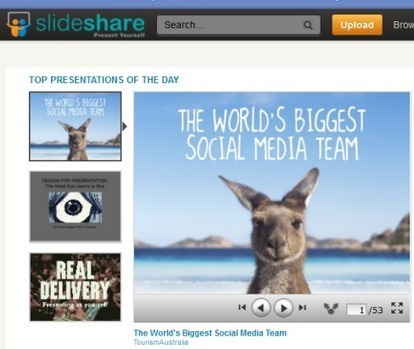 SlideShare for lead generation: Here's how to use SlideShare as part of your visual content marketing strategy.
Summary…
#1: Base Your Presentation on a Topic on Which You are an Expert
#2: Your Title Slide is Your Headline
#3: Optimize Each Presentation for Search Engine Optimization
#4: Integrate Your Presentations Across Multiple Channels
#5: Create Your Promotion Strategy before Publishing Your Presentation
#6: Continue to Drive Viewers to Your SlideShare Presentation
#7: Repurpose, and then Repurpose Some More
#8: Check the Analytics
#9: Turn on the Forms Option
#10: Add Your Presentations to Your Personal LinkedIn Profile
iNeoMarketing's insight:
OUTSTANDING collection of what you need to do to capitalize on SlideShare! Click through for details!!
See the article at www.socialmediaexaminer.com
Receive a daily summary of The Marketing Automation Alert directly to your inbox. Subscribe here (your privacy is protected).
If you like this scoop, PLEASE share by using the links below.
iNeoMarketing merges marketing automation with content marketing for a powerful lead management solution, configured and managed by our knowledgeable, experienced staff. Contact us.
See on www.socialmediaexaminer.com