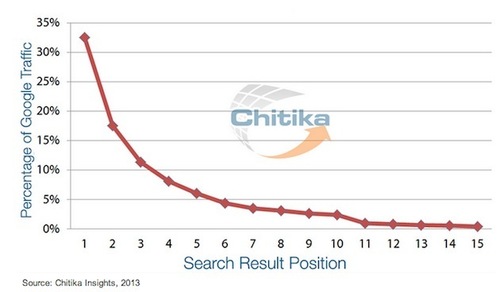 Search Engine Marketing – A website with the first position in Google results receives 33% of the traffic for a keyword or phrase, compared with 18% for the second position, according to a recent …
Supporting excerpt…
The drop in cumulative traffic moving from one page to another is even more significant. Sites listed on the first Google search results page generate 91.5% of all traffic from an average search. When moving from page one to two, the traffic drops 95%—and 78% and 58% for the next two pages, respectively.
iNeoMarketing's insight:
If this doesn't tell the full story, I don't know what else would. Any doubts as to SERP position are hereby doused.
See the article at www.marketingprofs.com
Receive a daily summary of The Marketing Automation Alert directly to your inbox. Subscribe here (your privacy is protected).
If you like this scoop, PLEASE share by using the links below.
iNeoMarketing drives more revenue and opportunities for B2B companies using marketing technologies. Contact us!
See on www.marketingprofs.com