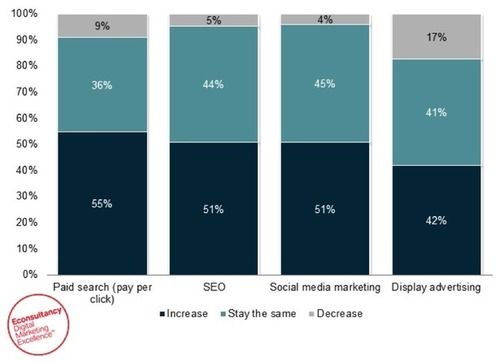 Paid search now accounts for around a quarter (24%) of the average business' total marketing budget, according to a new report from Econsultancy and NetBooster.
Excerpt…
Paid search is apportioned the largest average budget by companies (24%), followed by SEO (18%). Social media and display had equal average share of budget (both 11%).
This figure could potentially increase further by 2014, as more than half of respondents (55%) said they expect their PPC budgets to increase over the next 12 months.
In comparison SEO and social spending were both predicted to increase by 51% of respondents, while 42% said they expect to spend more on display advertising.
iNeoMarketing's insight:
UK companies, but comparable nevertheless.
See the article at econsultancy.com
Receive a daily summary of The Marketing Automation Alert directly to your inbox. Subscribe here (your privacy is protected).
If you like this scoop, PLEASE share by using the links below.
iNeoMarketing drives more revenue and opportunities for B2B companies using marketing technologies. Contact us!
See on econsultancy.com