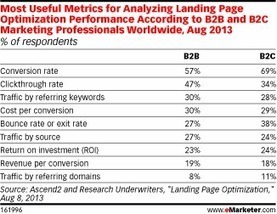 Conversion is the key metric used by both B2Bs and B2Cs to determine how well their landing page is performing. B2Cs tend to be especially focused on this objective, whereas B2Bs also put heavy emphasis on generating leads from the landing page.
Key excerpt…
Ascend2, an agency consulting company, and Research Underwriters surveyed business-to-business (B2B) and business-to-consumer (B2C) marketing professionals worldwide in August 2013 on their landing page optimization strategy. The greatest percentage from both groups considered conversion to be the most useful metric for analyzing the performance of their landing pages, cited by 57% of B2B respondents and 69% of B2C respondents. Clickthrough rate (CTR) was also important to B2B marketers, significantly more so than to B2Cs.
iNeoMarketing's insight:
There are no surprises here, but wanted to make sure you had stats that compared to the two.
See the article at www.emarketer.com
Receive a daily summary of The Marketing Automation Alert directly to your inbox. Subscribe here (your privacy is protected).
If you like this scoop, PLEASE share by using the links below.
iNeoMarketing drives more revenue and opportunities for B2B companies using marketing technologies. Contact us!
See on www.emarketer.com