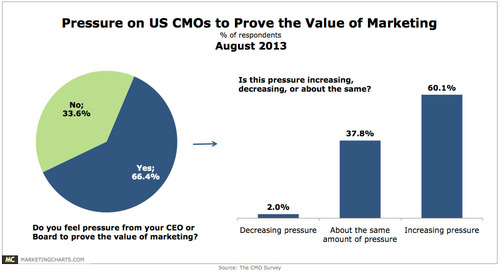 Excerpt…
This may be "the year of the marketer," but with added responsibilities come added pressures. The latest biannual CMO Survey [pdf] from Duke University's Fuqua School of Business finds that CMOs are not immune: according to the study, 66.4% said they feel pressure from their CEO or Board to prove the value of marketing. What's more, 6 in 10 of those said that their leaders are turning up the heat, with just 2% reporting decreasing demands to prove their worth.
iNeoMarketing's insight:
You only feel pressure if you're not prepared. This is the year where you should have the tools, infrastructure and people in place to easily and quickly prove marketing's value.
See the article at from www.marketingcharts.com
Receive a daily summary of The Marketing Automation Alert directly to your inbox. Subscribe here (your privacy is protected).
If you like this scoop, PLEASE share by using the links below.
iNeoMarketing drives more revenue and opportunities for B2B companies using marketing technologies. Contact us!
See on www.marketingcharts.com