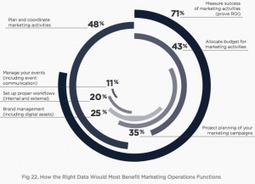 Digest…
Too many marketing operations pros start down the road toward ROI, but then falter after a few steps because they start running low on proof of success. Data is the key to those proof points, but few have the data they need to prove they're making the right choices. Insufficient data = Insufficient proof = no ROI. And if they're not sure of choices now, there's certainly no guarantee they'll make the right choices when it comes to planning for the future.
If you're in marketing operations, and you're ready to start demonstrating ROI, here's my advice: Take one step back. Before you make the case for the ROI of your marketing efforts, make the case for data. Everyone from the IT department to the executive boardroom needs to understand two fundamental concepts: 1) the importance of data-driven marketing in driving revenue growth, and 2) how they can all work together to make better use of data within your organization.
iNeoMarketing's insight:
If this is the year of marketing, then when is the year of marketing operations?!?! If you're in marketing ops, heed the aforementioned: it always starts with the data, so you better have the right data identified and the right data collection methods drawn up.
See the article at from blogs.teradata.com
Receive a daily summary of The Marketing Automation Alert directly to your inbox. Subscribe here (your privacy is protected).
If you like this scoop, PLEASE share by using the links below.
iNeoMarketing drives more revenue and opportunities for B2B companies using marketing technologies. Contact us!
See on blogs.teradata.com