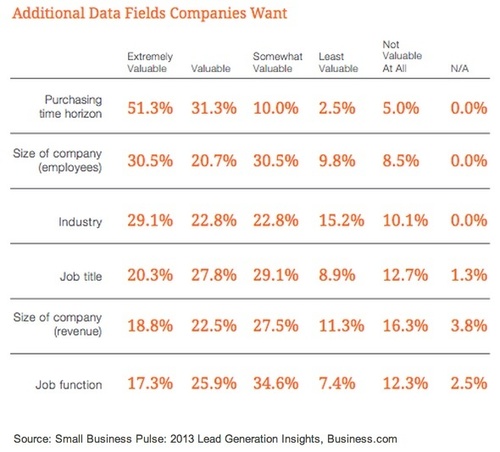 Introduction…
Most pay-per-lead B2B marketers (51%) say knowing a buyer's purchasing time horizon is the most important data point they want but often don't get, according to a recent report by Business.com. The size of the buyer's business, as measured by employee base, is the second most valuable additional data point for leads: 31% of marketers say it would be extremely valuable to know.That's followed by industry type (29% say it would be extremely valuable) and job title (20%).
iNeoMarketing's insight:
And there are stats associated with the type of content desired to be distributed as a part of the PPL program. But set that aside: is that really the way to you want to approach inbound marketing?
See the article at from www.marketingprofs.com
Receive a daily summary of The Marketing Automation Alert directly to your inbox. Subscribe here (your privacy is protected).
If you like this scoop, PLEASE share by using the links below.
iNeoMarketing drives more revenue and opportunities for B2B companies using marketing technologies. Contact us!
See on www.marketingprofs.com