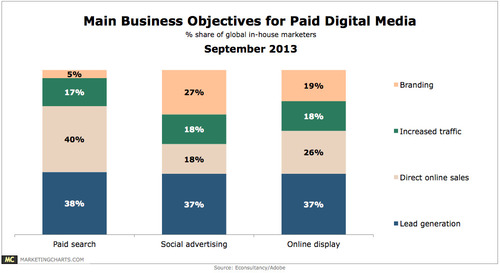 Digest…
The findings come from a new study from Econsultancy in association with Adobe and fly directly in the face of a study conducted earlier this year by Vizu which revealed that a majority of marketers and advertisers indicated their primary objective when it came to social media marketing was brand-related.
So why is this most recent finding so catastrophic? Simple.
It means that marketers are putting more emphasis on selling than they are at establishing relationships with consumers via branding.
It means that marketers would rather try and sell you something than say tell you a story.
It means that marketers are only in "it" to increase their bottom line.
When I am asked for my definition of content marketing, I usually include the phrase "guns blazing" as in "you cannot go into a relationship and maintain a relationship with a consumer guns blazing. You have to engage, relate to, share relevant content with your audience and yes integrate your "guns" AKA your product, into your overall content marketing strategy." It cannot be sell, sell, sell at every single turn.
iNeoMarketing's insight:
Utterly disagree.
Just because your business objectives are heavily slanted towards driving revenue does not mean that you're selling product at every turn via content marketing. And most marketers know that.
Marketers know that the adoption of a content marketing strategy revolves around education so that intelligent decisions can be made vis-a-vis your products/offerings. And marketers know that it is a two-stepper: content marketing delivers knowledge –> knowledge delivers buyers (NOT content marketing delivers buyers).
So no: business objectives do not necessarily mean that your content marketing strategy is about selling.
See the article at from www.forbes.com
Receive a daily summary of The Marketing Automation Alert directly to your inbox. Subscribe here (your privacy is protected).
If you like this scoop, PLEASE share by using the links below.
iNeoMarketing drives more revenue and opportunities for B2B companies using marketing technologies. Contact us!
See on www.forbes.com