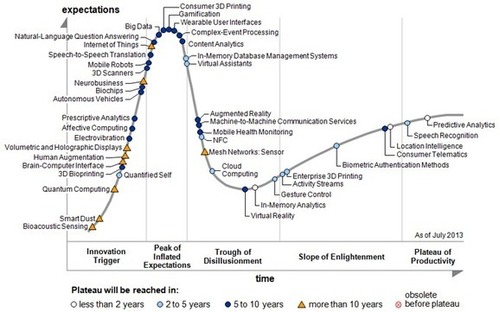 ___________________________________
-Receive a FREE daily summary of The Marketing Technology Alert directly to your inbox. To subscribe, please go to http://ineomarketing.com/About_The_MAR_Sub.html (your privacy is protected).
-If you like this scoop from The Marketing Technology Alert (brought to you by iNeoMarketing), PLEASE share by using the links below.
iNeoMarketing's insight:
http://www.smartinsights.com prompted me to reexamine this chart as I wanted to point out three items: Big Data, Gamification, and Predictive Analytics. Note the positioning of Big Data and Gamification: they're both at the peak of the Peak of Inflated Expectations. Difference: the barrier to usage for Big Data is far greater than Gamification. Expect the time for Gamification to travel along the path to be far shorter than Big Data. Predictive? You need to skunkworks this for 2014, but it will only explode onto the B2B scene once it is embedded within CRM.
See on www.gartner.com