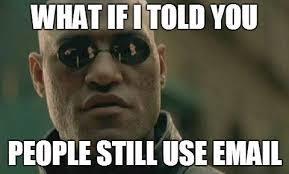 Basic/ Excerpt…
Generally, buying email lists is a fruitless venture, as these lists mostly contain people who have no interest in your product. Purchased lists come with a damaged reputation, as it is considered an industry shortcut that does not pay off many dividends. Since you have no idea if the customers on your list would ever buy your product, it can be a waste of time and money. Remember, it is important to market these emails directly to your targets.
Renting B2B email lists from a third party has its own set of pros and cons. Although rented lists typically contain clients that may fit your target audience, continuously paying rental fees is an expensive endeavor. Rented lists should really only be considered if you are promoting a one-time event or only plan on sending a few emails per year.
__________________________________
► Receive a FREE daily summary of The Marketing Technology Alert directly to your inbox. To subscribe, please go to http://ineomarketing.com/About_The_MAR_Sub.html (your privacy is protected).
iNeoMarketing's insight:
1) Be careful about buying Canadian lists. The new CASL could hurt you.
2) Data.com, D&B, etc. are wonderful sources: expensive but reputable. See list sources under Filter.
See on www.nusparkmarketing.com