See on Scoop.it – The Marketing Technology Alert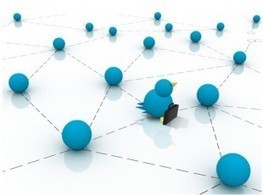 Intermediate/ Digest…
Here's a breakdown of three key angles to keep in mind when plotting your B2B marketing push on social media:
1. Building brand awareness
Contrary to popular belief, social media is ideally suited for impression­-based strategies. That means your goal is to have your brand seen by the businesses that you will eventually be approaching for sales. Social media users are far more likely to purchase a product or service if they have some pre-awareness. This means they've seen the brand pop up on their social media feeds, in advertisements, and so on. It's even better if you can attract positive attention from users by sharing helpful information and contributing valuable insights to conversations. After all, a compliment from a fellow social media user will carry far more weight than you touting your own bona fides. When potential clients see your brand pop up on social media, even in passing, it will psychologically prepare them for the moment when you actually reach out to them.
2. Showcasing your expertise
Most businesses probably won't take the time to click on a link to your blog, then watch your videos, read your press releases, and so on. Conversations on social media work differently than with other channels. Social media users have already chosen to log on, engage, and share with other users. That means you have a rapt audience waiting — all you have to do is join their conversations and grab their attention. The best way to do this is to offer expertise and insight that these users will find valuable.
When joining these groups, you won't be presenting yourself as a salesman. You are there to participate in a community and offer insight, advice, and tips. By doing so, your brand's prestige and awareness will organically grow over time. You'll find down the road that sales come easier when you have a respectable track record of participation on social media.
3. Making contact for sales
The informality of social media makes it a fertile ground for building a lasting, genuine relationship with potential clients. The trick is to find where your potential clients are interacting (groups, twitter chats, etc.) and become a part of those forums. When you finally do approach them with a sales pitch, your presence on social media will have given the potential account an idea of your brand and the services it provides. That puts you at a huge advantage over a cold contact.
___________________________________
► Receive a FREE daily summary of The Marketing Technology Alert directly to your inbox. To subscribe, please go to http://ineomarketing.com/About_The_MAR_Sub.html (your privacy is protected).
iNeoMarketing's insight:
On the surface, these comes across as a soft piece, but the author offers specific approaches…for each major social media platform…to accomplish these goals. A good read.
See on contentmarketinginstitute.com