See on Scoop.it – The Marketing Technology Alert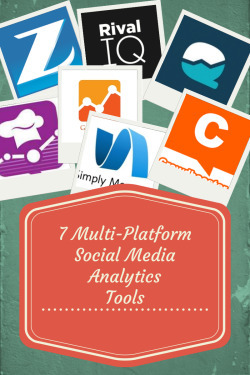 Here are 7 Social media analytics tools for multiple platforms to help you analyze your social media presence.
Basic/ Summarized…
1. Simply Measured
Simply Measured provides a very comprehensive social media reporting platform that supports a broad range of social networks.
2. Rival IQ
Rival IQ is a platform for competitive intelligence. You create one or more landscapes of competitors or clients and track their performance across both social media and the web.
3. Google analytics
Google Analytics is a very comprehensive web analytics tool that most of us are familiar with to some degree, but it also provides some social media analytics that we quite often overlook and don't spend enough time on!
4. Zuum
Zuum is a tool used for benchmarking performance against competitors,finding the most engaging content and identifying key influencers.
5. Socialbakers
Socialbakers provide a suite of modules including analytics, social media management, ad analytics and monitoring.
6. Crowdbooster
Crowdbooster is an analytics tool for Facebook and Twitter. It provides analytics with recommendations on how to make improvements including the timing of when you should send your updates. It also provides the facility to share scheduled content across the platforms.
7. Quintly
Quintly provides analytics for Facebook, YouTube, Google+ and Twitter. The information is laid out in customizable dashboards where you can add widgets for data or stats you want to monitor. A list of standard widgets are provided.
___________________________________
► Receive a FREE daily summary of The Marketing Technology Alert directly to your inbox. To subscribe, please go to http://ineomarketing.com/About_The_MAR_Sub.html (your privacy is protected).
iNeoMarketing's insight:
Love articles like this. The author has done considerable work not only delineating the recommended apps, but also describing each in great detail. Bookmark this.
See on www.razorsocial.com