See on Scoop.it – The Marketing Technology Alert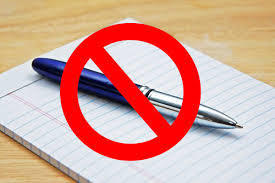 Suppose you were prevented from writing. How would you fuel your marketing automation with content?
Let's see. The basic means of communication for marketing automation is email. Can't get around the Subject Line: that has to be written. So let's go to the email body, where the content of the email needs to be visual and responsive. Video? Possible, but you need that fall back image for those email clients that will reject HTML5. Infographic? Might work, especially if it's a teaser to a larger infographic.
OK, so now you've got the CTA humming to go…where? Wide variety here: SlideShare, deck with audio annotation, video, webinar, cartoons, dynamic infographic, etc. Of course, your visual content can be adapted to the persona and the sales stage.
Follow-on material? Yup: can be visual content mapped out to what is appropriate. Does the recipient have questions? Click to call, click to video chat.
Visual content only is doable. Here's what you can't do: personalize your visual content…yet.
If visual elicits greater reaction, why bother with the written word?
FWIW: Seahawks 17, Broncos 7. You just can't accurately pass in the cold and wind of the Meadowlands. MVP to Russell Wilson. Marshawn Lynch will run for over 125.
Marketing Technology…NOW!
Have a comment? Email it to info@ineomarketing.com or comment below. I'll publish it here.
Today's curated articles collected for your quick review:
— > 81% of big firms now have a chief marketing technologist – ChiefMarTec http://sco.lt/7MgF0r
— > Personas: The Art and Science of Understanding the Person Behind the Visit – Moz http://sco.lt/5d12mn
— > 3 reasons why marketing automation is not enough – BrightInfo http://sco.lt/7yqSrR
— > 3 Google+ Tools That Take Your Marketing to a New Level – Social Media Explorer http://sco.lt/8D2PMf
— > The Blessing and Curse of Focus for Digital Marketers – Gartner http://sco.lt/8jp4t7
— > StumbleUpon Refers More Traffic v LinkedIn & Google+, Combined – MarketingCharts http://sco.lt/7YARgP
— > 80% Of Marketers More Optimistic w/ 62% Increasing Data Budgets – MarketingLand http://sco.lt/8S5QJ7
— > The Art of Data Visualization | Off Book | PBS Digital Studios http://sco.lt/84AibB
— > Before & After: 6 Beautiful Website Redesigns [SlideShare] – HubSpot http://sco.lt/8Nfoe1
— > Infographic: Past, Present, and Future of Web Design – Bluehost http://sco.lt/6XD4RV
— > 3 Strategic Content Measures Every Marketer Should Take – Eloqua http://sco.lt/8Y2AtN
See ALL Top Curated Marketing Technology Articles here.
___________________________________
► FREE: AgileContent™ delivers more quality content to your market! Get your FREE 14 Day Trial NOW!: http://goo.gl/rzeg79. No credit card required!
► Receive a FREE daily summary of The Marketing Technology Alert directly to your inbox. To subscribe, please go to http://ineomarketing.com/About_The_MAR_Sub.html (your privacy is protected).