See on Scoop.it – The Marketing Technology Alert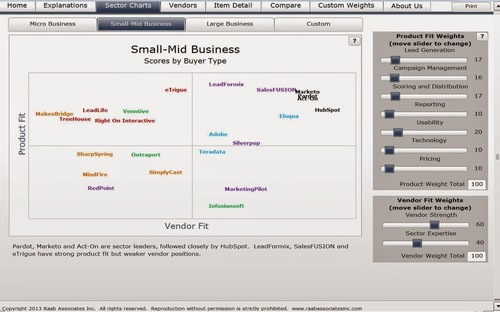 Advanced/ Digest…
— > Revenue growth is accelerating. I'm projecting a 60% increase in industry revenue for 2014, to $1.2 billion. You heard it here first.
— > The hot new feature is…SEO content rating. At least a half dozen vendors had added or improved features to help marketers build content that attracts search engine hits on selected keywords or concepts.
— > Lots of new vendors. I added four new vendors to the report, all of which have just begun to market their products aggressively. None is very large yet, except for SimplyCast, which won't release precise data but did say it has 3,000 to 5,000 customers for its multi-channel customer management system.
— > Agency systems are big. Two of the four new vendors are agency system specialists, and several other vendors have also launched special agency editions.
— > Mid-market leadership may be up for grabs. Small but established mid-market firms including SalesFusion and eTrigue have been growing particularly quickly, as has Act-On. This may be because the current mid-market leaders, Marketo and Pardot in particular, have been focusing more on enterprise sales. I had thought that heavy funding would be necessary become a new market leader, which is the way Marketo, Act-On and HubSpot did it. SalesFusion did just take an $8.25 million investment but their revenue doubled last year without it.
___________________________________
► FREE: AgileContent™ delivers more quality content to your market! Get your FREE 14 Day Trial NOW!: http://goo.gl/rzeg79. No credit card required!
► Receive a FREE daily summary of The Marketing Technology Alert directly to your inbox: http://ineomarketing.com/About_The_MAR_Sub.html (your privacy is protected).
iNeoMarketing's insight:
More vendors, higher projections, and it's only going to continue. Purchase David's VEST here.
See on customerexperiencematrix.blogspot.com