See on Scoop.it – The Marketing Technology Alert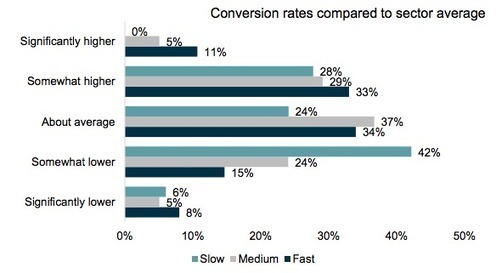 Basic/ Digest…
Marketers with faster, easier to use email systems clearly have an edge over their peers. 11% of the fast group report 'significantly higher' conversion rates, and 33% report 'somewhat higher' than average.
Those with fast systems report an average ROI for email of $38.80, nearly 33% higher than the $26.20 reported by those with slow systems.
The marketers in the fast/easy to use technology category reported an average ROI of nearly 40:1 for every dollar spent, in comparison with a ratio of 26:1 for those in the slow group.
____________________________________________________
► FREE: AgileContent™ delivers more quality content to your market! Get your FREE 14 Day Trial NOW!: http://goo.gl/rzeg79. No credit card required!
► Receive a FREE daily summary of The Marketing Technology Alert directly to your inbox. To subscribe, please go to http://ineomarketing.com/About_The_MAR_Sub.html (your privacy is protected).
See on econsultancy.com